Canadian Hole may be an unfamiliar term to the typical, laid-back Hatteras Islander vacationer, but to windsurfers around the world, the phrase invokes thoughts of an exact, postcard-perfect locale on the Outer Banks, where windsurfing and water sports conditions are truly at their global best, and any given day is a fantastic day to enjoy the ride.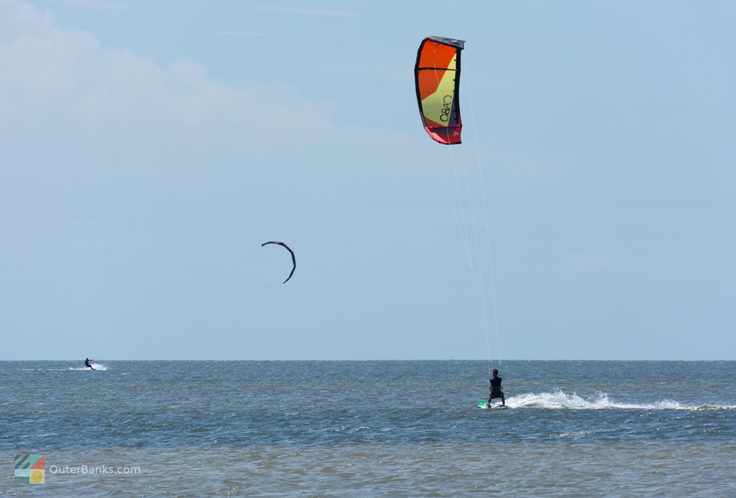 In fact, Canadian Hole has been the focal point of exceptional East Coast windsurfing for decades, and in the spring and summer months, Hatteras Island visitors will notice clusters of vehicles and expansive colorful kites swooping across the open waters of the Pamlico Sound. Every year, windsurfers will travel thousands of miles just to access this small stretch of shoreline, and after a day of riding the local winds, most all of these water lovers attest that the journey is well worth it.
Truth be told, however, there's no pre-requisite that a visitor has to be an avid windsurfer or kite boarder to enjoy Canadian Hole's charm. The area is ideal for families with young children, avid beachcombers who want to explore what treasures are available outside the ocean beaches, and romantics who adore a fantastic and convenient sound sunset.
Best of all, despite its big reputation, Canadian Hole still remains a small-town beach with plenty of elbow room, fantastic vistas, and a wonderful little slice of the Outer Banks landscape.

History of Canadian Hole
Years after the Cape Hatteras National Seashore was established in 1953, (which comprises most all of Hatteras Island and Ocracoke Island's seashore), the National Park Service (NPS) went to work constructing 4WD beach access ramps, campgrounds, and public parking areas in some of Hatteras Island's most scenic locations. One of these new parking areas was a soundside public parking lot in between the villages of Avon and Buxton.
With most of the attractions on Hatteras Island, including exceptional surfing, fishing, shelling, and simple everyday lounging, being located right off the Atlantic Ocean, this soundfront public area garnered little attention at first, being only visited by locals and visitors with small, easy-to-launch skiffs, and the occasional waterfront sunset lover who would pull in for one of the island's best vantage points for the daily evening show.
This all changed in the early 1980s when the sport of windsurfing began to take off, literally, on a national and worldwide level. Local water sports lovers as well as visitors from upstate New York and Canada, who had started windsurfing across the Great Lakes, began experimenting on the waters off the Pamlico Sound, launching from the spacious yet desolate beaches of what is now Canadian Hole.
Their results were astounding, and visitors praised the Hatteras Island area for some of the best wind and water conditions on the entire Eastern Seaboard. After all, in this locale, windsurfers can enjoy steady 15-20 mph winds that are sustained by the proximity to the Atlantic Ocean, as well as a 30 mile wide body of saltwater with few obstructions that's positively ideal for long, fast glides.
Word got out quickly among the ever-expanding windsurfing set, and by the late 1980s, hundreds if not thousands of windsurfers had made the long expedition to the newly named "Canadian Hole," a moniker honoring its roots as a windsurfing paradise, discovered and popularized by Canadians.
In the late 1990s and early 2000s, kiteboarding began to take the Outer Banks by storm, and initially, kiteboarders landed on Canadian Hole for the best wind and water conditions. A large cluster along Canadian Hole ensued, and kiteboarders soon after staked their own beach, Kite Point, located just a hundred yards or so away, but still facing the same great conditions that the neighboring windsurfers enjoyed.
This segregation of windsurfers and kiteboarders was more or less intentional, but was created out of necessity. Because windsurfers glide along at a somewhat slower pace, and both sports require expansive plots of land for set-up and rigging, it was only natural that windsurfers would drift one way, and kiteboarders would drift the other.
Along the way, Canadian Hole also gained popularity among young families and beach lovers, who found that even an exceptionally windy day could be enjoyed in the quiet, soundside waters of this soundside area. Sunset lovers soon also flocked to the area, even if they were simply en route to Buxton or Avon and decided to pause for a few minutes to watch the sun set into the Pamlico Sound. In recent years, kayakers and stand up paddle boarders have also discovered that Canadian Hole is an ideal launching point for their sport of choice, and as a result, Canadian Hole today is a happy mix of families, windsurfers, kayakers, kite or stand-up paddle boarders, all enjoying the same stretch of small but beautiful Outer Banks coastline.

Visiting Canadian Hole
One of the reasons why Canadian Hole stands out among other NPS managed public soundside locations is its ample parking, restroom facilities, and showers. The public showers are seasonally open to visitors, and consist of large poles springing out from the decks for a nice but efficient outdoor rinse. Restrooms are also seasonally open, however the parking area, which can easily accommodate 4 dozen vehicles, including campers and RVs, is open year round.
Canadian Hole is not hard to find, and is located on the soundside of NC Highway 12 almost exactly in between Avon and Buxton villages. Several brown NPS signs mark the spot, but most spring and fall visitors will be able the see it from miles away, by the number of windsurfers that are gliding along just offshore.
The locale is unique in that is offers open water Pamlico Sound views, as well as a distant view of the Cape Hatteras Lighthouse. With this in mind, visitors are encouraged to bring a camera along, as the photo ops of windsurfers and distant kiteboarders, scooting against the backdrop of the water and the Cape Hatteras Lighthouse, is simply unparalleled.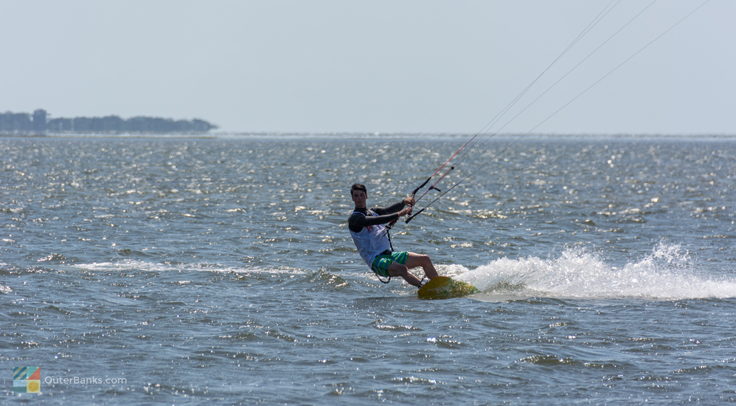 After parking, visitors will notice a sandy path located across NC Highway 12 and leading out to the ocean. This is a popular beach access point for both windsurfers and kiteboarders who need an extra thrill with the Atlantic waves, but it's also a popular family and shelling beach.
The beach along Canadian Hole, however, is equally attractive and has thin strips of white sand with clusters of shells bordering the small, lapping waves of the Pamlico Sound. This area truly is ideal for young children as the waters of the Pamlico Sound remain at 2-3' deep levels for hundreds of yards, with small and undisruptive lapping waves, ensuring that little ones have a safe place to play in the water, without the fear of or venturing out too deep, or being pushed over by big breakers.
Both children and adults are advised to wear sneakers, flip-flops or "booties" however, as the bottom of the Pamlico Sound can be unpredictably shelly or rocky, increasing the chances of a cut or a scratch. Booties are nylon and / or rubber water shoes that can be cheaply picked up at virtually any souvenir store, and protects the wearers' feet from any unsavory surface.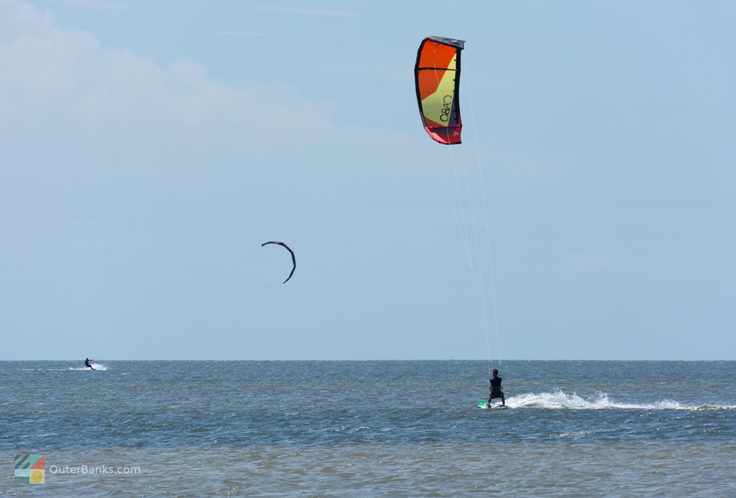 Adult crowds will also enjoy the beaches of Canadian Hole as well, as the area is ideal for both stand-up paddle boarders and kayakers who are just starting out, and like to have a nice section of "practice grounds" to try out their maneuvers. With shallow waters and few waves to compete with, boarding along the sound waters off of Canadian Hole is an easy endeavor, and all a rider in trouble has to do is step off, reposition, and try again.
Beachcombers who are adept at sifting through small shell piles along the oceanfront should consider a trip to Canadian Hole as well. While many smaller shell varieties, like augers, periwinkles, olive shells, moon shells, and even tiny whelks, can sometimes be damaged by a rough and large ocean wave when they are deposited onshore, on the soundside, this is never an issue. Along the beaches of Canadian Hole, beachcombers can find all of these varieties, as well as small clams, scallops, and other mollusks that have been white-washed to a stark white after centuries of remaining just under the surface.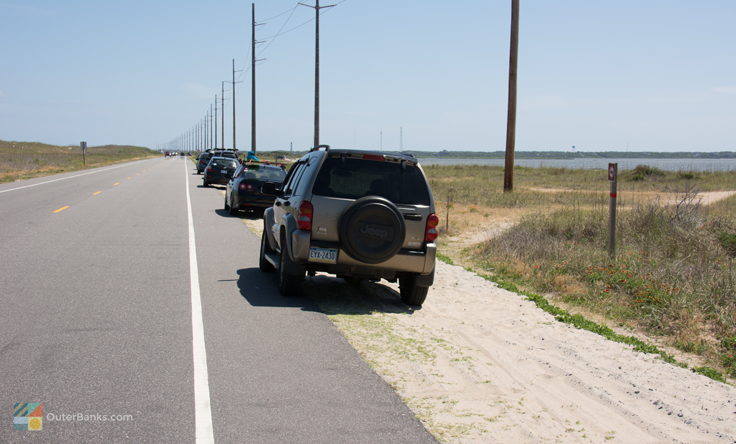 The big difference between shelling along the oceanfront and shelling along the soundside is that many of the shells that come to the surface on the soundside have been buried for hundreds if not thousands of years, making them slightly less pristine, but fantastic treasures nonetheless.
Visitors who may not have an interest in swimming, water sports or shelling, will also want to consider a visit to Canadian Hole as well, as the area offers some of the best and easiest-to-access sunsets on Hatteras Island. Located about 4 miles from both Avon and Buxton, and with ample room for all vehicles, catching a sunset at Canadian Hole is almost an annual tradition of sorts for many long-time vacationers, as the area is easy to get to, and all it takes is a lawn chair and a cold drink to sit back and enjoy the show.
Even in the summer months and the peak of the tourism season, the area never really becomes overcrowded with visitors, and sunset lovers can enjoy the view in quiet seclusion, miles away from the rest of the world.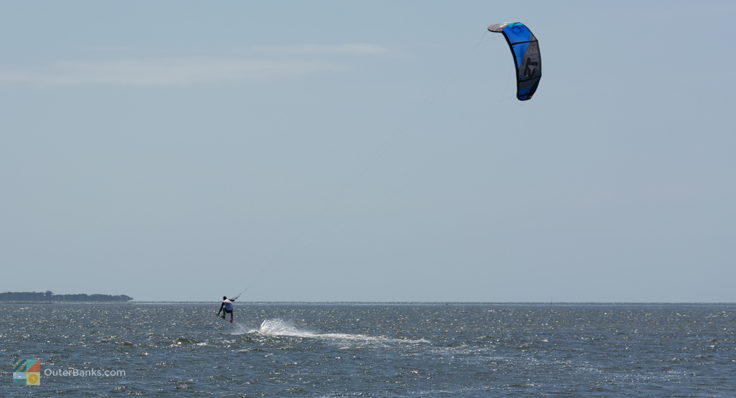 The Canadian Hole is essentially busiest during the spring and fall seasons, when local Outer Banks winds hold steady at 10-25 mph, and water sports conditions are at its best. In the summertime, the Canadian Hole is frequented mainly by families, and folks who want an easy-going beach day from an entirely new perspective. May and October are also prime times to visit the Canadian Hole, as while the ocean waters may be a little too cold for swimming, the sound waters are ideal for dipping in a toe or two and enjoying the warmer temperatures.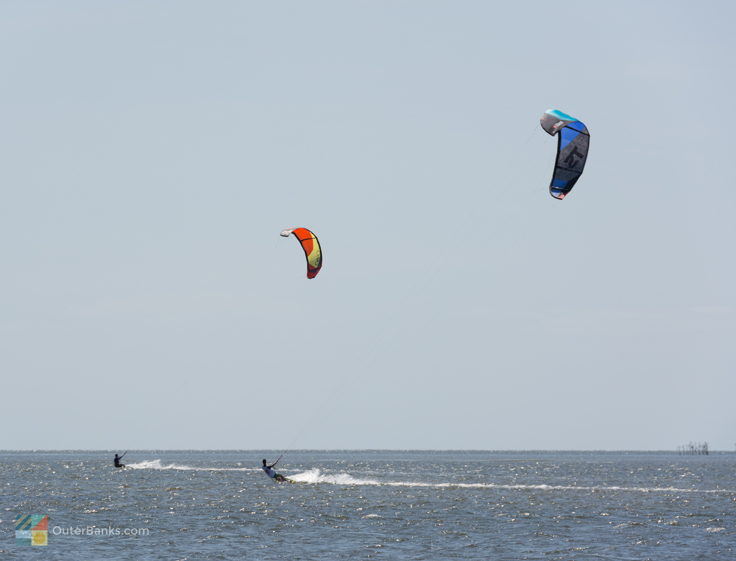 Though mainly known in both regional and international circles as a windsurfer's paradise, Canadian Hole is a family-friendly beach that has something to offer to all Hatteras Island vacationers. Whether your beach-going crew is searching for that perfect sunset spot, alternative shelling locale, or launching point for kayaking or stand-up paddling, chances are Canadian Hole can easily accommodate your needs.
Consider doing a quick drive-by of the facilities, (the soundside beach is located just a few feet away from the parking spaces after all), and see what natural attractions Canadian Hole has in store. There's a good chance you'll be back for a breezy day with the kids or a romantic sound sunset, which is why the legend of Canadian Hole continues to thrive among beach lovers even today.